Castellana Scarabeo bidet

Castellana back to wall bidet: an elegant bathroom fixture in perfect classic style.
The Castellana free-standing bidet is a precious element in a classic style that stands out for its elegance, an exceptional standard-bearer of made in Italy, this sanitary fixture is perfect for personalizing glamorous bathrooms with a romantic atmosphere. Made of superior quality ceramic, this bidet signed by Emo Design, stands out for its sinuous and soft lines always able to create comfortable atmospheres of harmony and to enhance the furnishings that give body to the room. A bathroom fixture with a successful mood, which with its timeless charm combines with refinement to the brass taps, wooden furniture and decorated mirrors, all details that together with the Castellana floor-mounted bidet make the space dedicated to hygiene care refined personal and that of the body.
A timeless floor mounted bidet
The floor-standing bidet of the Castellana collection is the highest celebration of the taste of tradition, an element of great beauty, practical and functional, a perfect elaboration of timeless shapes capable of achieving high aesthetic quality and giving the bathroom a lovely retro atmosphere. Made of white ceramic, this sanitary fixture gives the bathroom whiteness and purity, essential requirements to give shape to a furnishing project in perfect classic style where harmony is at home. The Castellana floor-mounted bidet with its beautiful base with a powerful and solid profile that widens in a delicate roundness with the beginning of the upper part, then creating a refined border, an elegant detail designed not to weigh down the environment, but to enhance it and to make it more sought after.
A three-hole bidet for a toilet like it used to be
The Castellana floor mounted bidet is a three-hole sanitary fixture, therefore it is designed for a classic tap with separate knobs, one for cold water and the other for hot water. Usually combined with a monobloc toilet and a pedestal washbasin, this bidet is also perfect to be placed in environments that expertly mix classic and modern styles, to do so it is sufficient to respect the spaces carefully, creating an essential dimensional balance. so that harmony is achieved; delightful paired with classic furnishings and intriguing along with modern furniture and accessories, interesting in color contrast with colorful furnishings. Whatever the design composition that gives life to the bathroom, the Castellana bidet not only gives warmth to the space, but also personalizes it with character, shaping it into comfortable and welcoming atmospheres.
A sanitary that allows you to customize the bathroom
Customizing the bathroom is important, so choosing to install the Castellana free-standing bidet is equivalent to giving shape to an original and unique environment in which to find oneself in a pleasant way. This practical and functional sanitary fixture creates a very particular furnishing effect that immediately strikes the eye and characterizes the room without weighing it down. In fact, this floor mounted bidet is the perfect element to create a design bathroom that stands out for its class and elegance, a comfortable and sophisticated room also designed to be everyday proof.
DATA SHEET: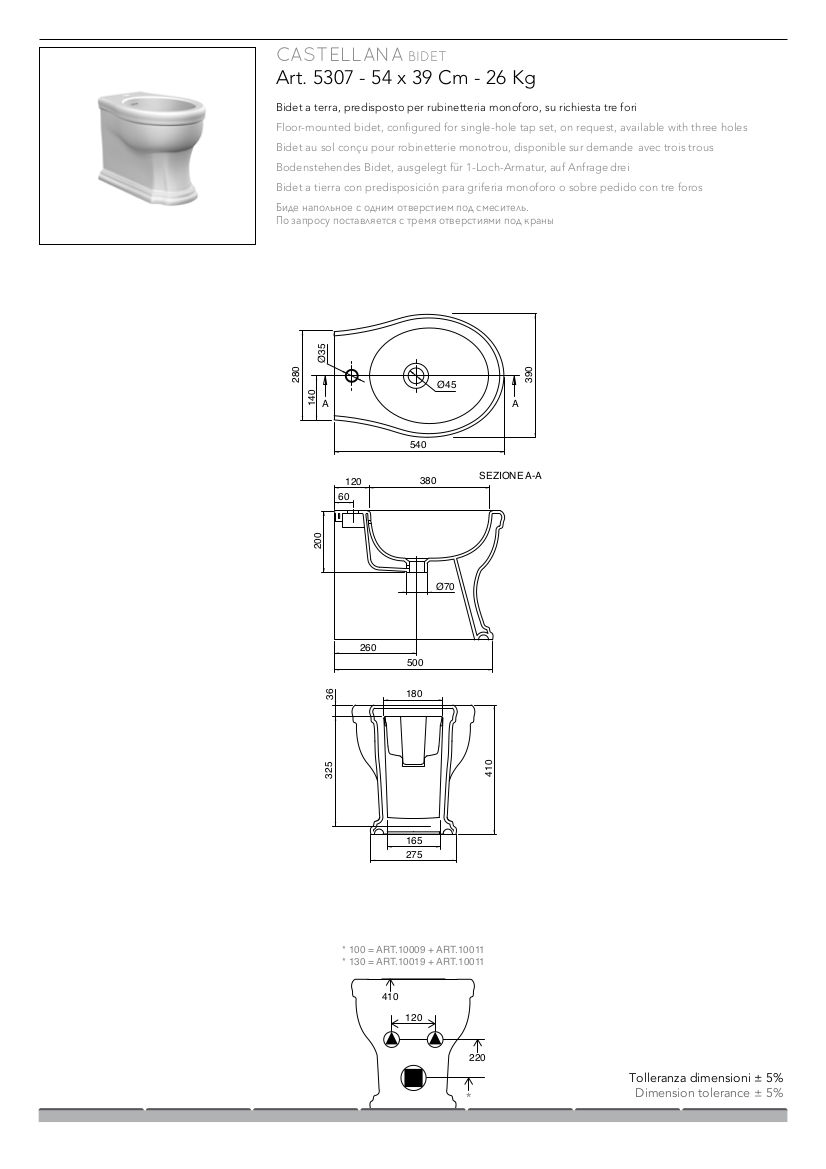 The washbasin: Elegant, functional, available in many different models enters the bathroom as a real protagonist.
Scarabeo supports it from 1974.
The commitment and seriousness demonstrated, together with the high quality of its products, allow the company to establish itself in a short time on domestic and foreign markets and to tighten profitable relationships with the most important world companies Manufacturers of sanitary ware.
Other strengths that have always characterized this company are the continuous search for novelty and the ability to constantly evolve according to the different needs manifested by the market.
From this continuous evolution comes the idea of presenting for a few years, new lines of furnishing sinks that, at present, are going to compose a very wide and always growing range.
The philosophy of Scarabeo is to make the washbasin protagonist of the bathroom, committing itself to the utmost in the study of new lines and models, designed to satisfy an increasingly demanding market, and to focus on the quality and uniqueness of the products rather than on the large Amount.