Moai Wc Scarabeo

Floor-standing vase Moai: the sinuosity of a soft shape
The Moai floor-standing toilet is a sanitary that stands out for its sinuous, enveloping and soft lines, which with its natural beauty presents itself to the eye of the beholder as an object with an aesthetically impeccable contemporary design, but is in everyday use. which also proves to be ultra practical and super functional.
This toilet from the Moai collection with wall drain is also designed for floor drainage through a technical plastic curve; similar to a stone monolith, the plasticity of this toilet is inspired by Easter Island and its mystery.
Smooth, shiny and polished, perfect for decorating a bathroom with attention to every detail, with its refined and refined design, this element designed by Massimiliano Braconi, looks like a real sculpture capable of enhancing the entire space bathroom.
Original and elegant, this floor-standing toilet is the central object of the entire furnishing project, extraordinary in combination with the washbasin and bidet of the same line, thanks to its particular plasticity it is exceptional also paired with sanitary fixtures from different collections.
The simple beauty of ceramics
Made of first choice ceramic, it is a made in Italy bathroom element, which well enhances the craftsmanship of things done in a workmanlike manner; the toilet seat can be purchased separately in the two versions with classic normal closure or with soft-close closure.
Easy to maintain, the Moai toilet is particularly resistant to shocks and scratches, this gives it incredible longevity, a particular floor-standing toilet capable of breaking the flat line of the usual, a nice novelty, for a sanitary that breaks the mold giving a singular play of forms to the whole composition.
Perfectly capable of creating relaxing atmospheres, the Moai toilet creates a welcoming bathroom, a space that amazes and draws the user into a comfortable environment, which makes well-being and usability the winning cards of any furniture. .
DATA SHEET: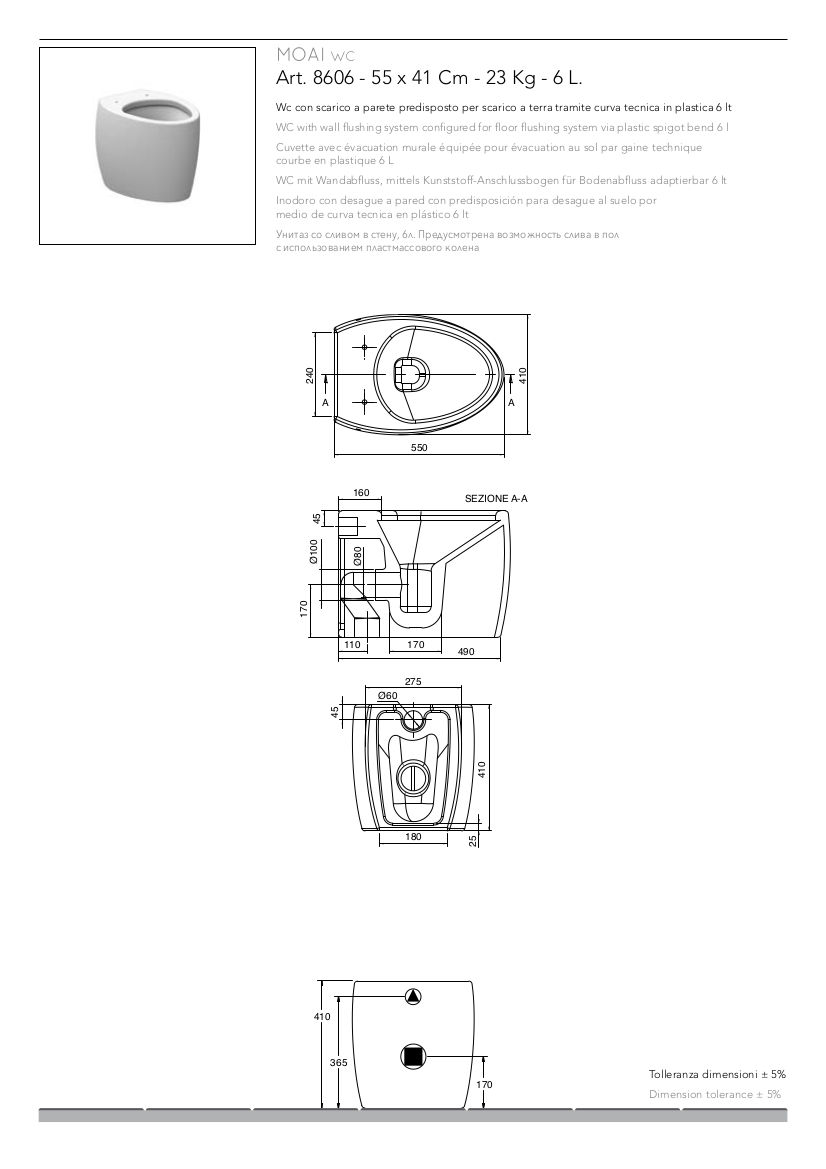 The washbasin: Elegant, functional, available in many different models enters the bathroom as a real protagonist.
Scarabeo supports it from 1974.
The commitment and seriousness demonstrated, together with the high quality of its products, allow the company to establish itself in a short time on domestic and foreign markets and to tighten profitable relationships with the most important world companies Manufacturers of sanitary ware.
Other strengths that have always characterized this company are the continuous search for novelty and the ability to constantly evolve according to the different needs manifested by the market.
From this continuous evolution comes the idea of presenting for a few years, new lines of furnishing sinks that, at present, are going to compose a very wide and always growing range.
The philosophy of Scarabeo is to make the washbasin protagonist of the bathroom, committing itself to the utmost in the study of new lines and models, designed to satisfy an increasingly demanding market, and to focus on the quality and uniqueness of the products rather than on the large Amount.