Wall Hung Wc Bucket Kids Scarabeo

A design vase but child-friendly
None of us can remember how difficult it was to get rid of the diaper and start using the potty. Although memory cannot help in this sense, what is certain is that there is nothing more difficult for a child than to change his habits and adapt to the norms of civilized life. Parents in this regard, however, could think of making things easier for him and helping him understand how to behave, transforming their home into a small nest suitable for children. How? By purchasing a wall-hung baby vase like that of the Bucket line, for example, a proposal designed to simplify the transition from the diaper to the toilet and to make this phase less traumatic.
Compact and rounded: this is the Bucket childhood wall hung toilet
The Bucket childhood wall hung toilet is nothing more than a toilet in miniature format that pays attention both to functionality, essential for children, and to aesthetics. Looking at it, one immediately realizes that it is not a toilet for adults, but it is a bit as if it were. It looks like a real suspended and design toilet, characterized by the rounded shape that is typical of all the elements that make up the Bucket sanitaryware line.
As for the dimensions, it is clear that this is a child-friendly toilet: it is 29 centimeters wide and 40 deep, while as regards the capacity we are around 6 / 4.5 liters. The childhood wall hung toilet is made entirely of white ceramic – except for the back, which is not glazed because it is intended to be connected to the wall – just like the sanitary ware for adults, and is mounted in the same way: this, in this specific case, has a suspended installation and is fixed using special brackets.
A mignon toilet suitable for homes and nurseries
Not just a whim, therefore, but a fundamental accessory to encourage the growth and development of children. A toilet that can also be only temporary, since the little ones won't have to use it for too long anyway, and that is particularly suitable not only for a home but also for a nursery or any other educational facility. Learning to do without a diaper will be as simple as drinking a glass of water with this Hanging Childhood Bucket.
DATA SHEET: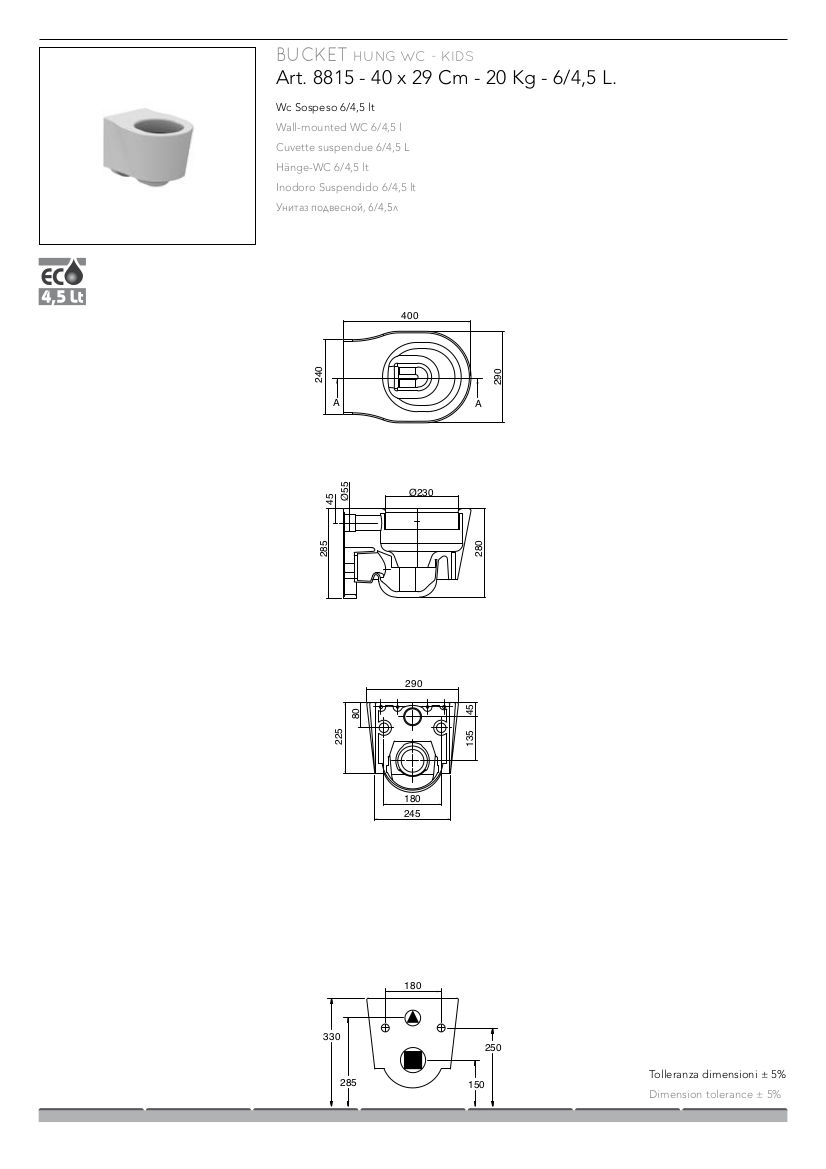 The washbasin: Elegant, functional, available in many different models enters the bathroom as a real protagonist.
Scarabeo supports it from 1974.
The commitment and seriousness demonstrated, together with the high quality of its products, allow the company to establish itself in a short time on domestic and foreign markets and to tighten profitable relationships with the most important world companies Manufacturers of sanitary ware.
Other strengths that have always characterized this company are the continuous search for novelty and the ability to constantly evolve according to the different needs manifested by the market.
From this continuous evolution comes the idea of presenting for a few years, new lines of furnishing sinks that, at present, are going to compose a very wide and always growing range.
The philosophy of Scarabeo is to make the washbasin protagonist of the bathroom, committing itself to the utmost in the study of new lines and models, designed to satisfy an increasingly demanding market, and to focus on the quality and uniqueness of the products rather than on the large Amount.