Wall Hung Wc Moai Scarabeo

Those who prefer contemporary furnishing styles cannot fail to remain indifferent to the Moai collection. A line of washbasins and sanitary ware with an innovative design, whose shape recalls that of pebbles smoothed by the force of water. A sinuous geometry characterizes the Moai suspended toilet, which almost resembles a heart and is perfect to be inserted in bathrooms in step with the times, becoming the protagonist. Comfortable, practical and original, the Moai vase is a piece of furniture that lends itself to highlighting natural stone or marble coverings, guaranteeing a high degree of customization to the bathroom.
Elegant and functional rimless vase
The Moai toilet is a true work of architecture, made of glazed ceramic and with an internal structure without rim, which allows it to always appear tidy and shiny. Compact and with small dimensions, it is a piece of furniture that can be inserted in domestic or professional living contexts, giving flair and elegance to the environment.
Sanitary ware with an innovative and versatile design
Completed with a thermosetting toilet seat with normal or Soft-Close closure, it transforms into a solid and comfortable seat, ideal for relaxing during a foot bath or applying a facial treatment, but also to facilitate the daily routine gestures of the elderly and children. . A vase designed to last over time and to be installed without requiring special masonry interventions. Aesthetically refined, the Moai toilet together with the bidet from the same collection are the ideal solution for setting up a functional bathroom with a great visual impact, adapting it to different furnishing styles.
DATA SHEET: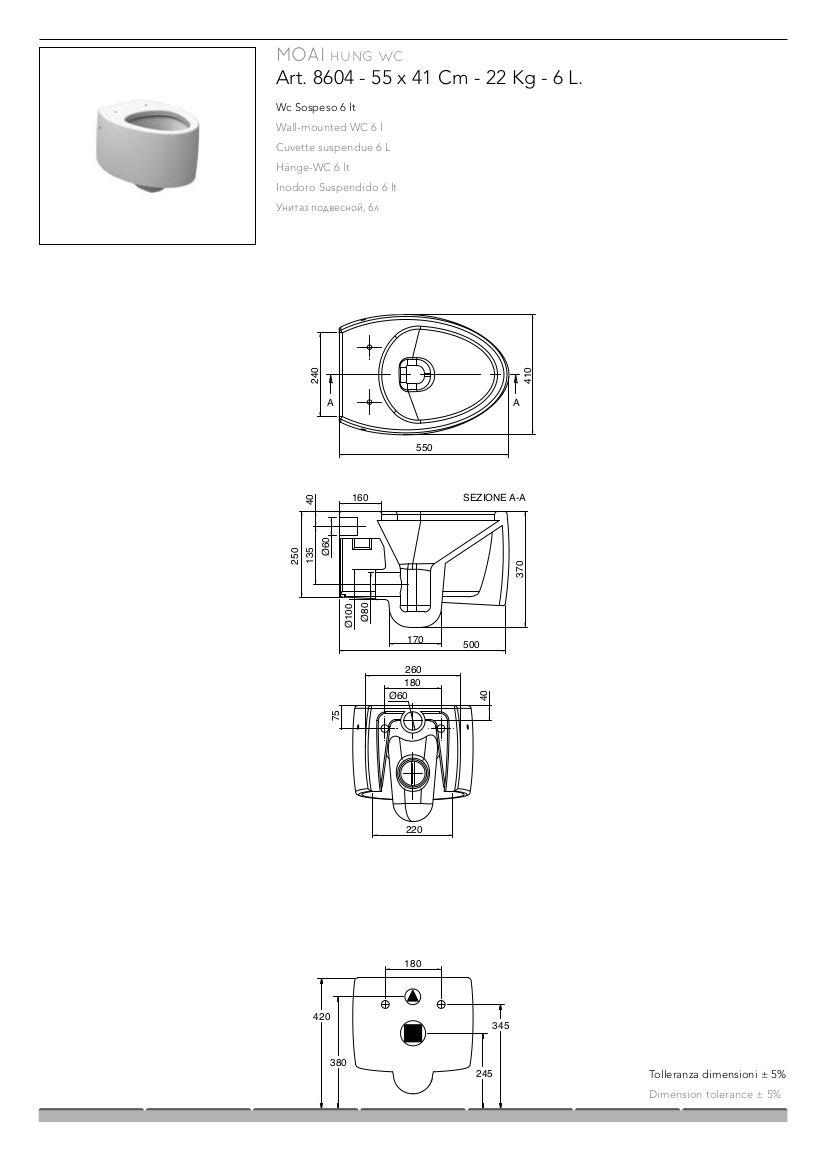 The washbasin: Elegant, functional, available in many different models enters the bathroom as a real protagonist.
Scarabeo supports it from 1974.
The commitment and seriousness demonstrated, together with the high quality of its products, allow the company to establish itself in a short time on domestic and foreign markets and to tighten profitable relationships with the most important world companies Manufacturers of sanitary ware.
Other strengths that have always characterized this company are the continuous search for novelty and the ability to constantly evolve according to the different needs manifested by the market.
From this continuous evolution comes the idea of presenting for a few years, new lines of furnishing sinks that, at present, are going to compose a very wide and always growing range.
The philosophy of Scarabeo is to make the washbasin protagonist of the bathroom, committing itself to the utmost in the study of new lines and models, designed to satisfy an increasingly demanding market, and to focus on the quality and uniqueness of the products rather than on the large Amount.