WASHBASIN SCARABEO TEOREMA 2.0 WITH DOUBLE TANK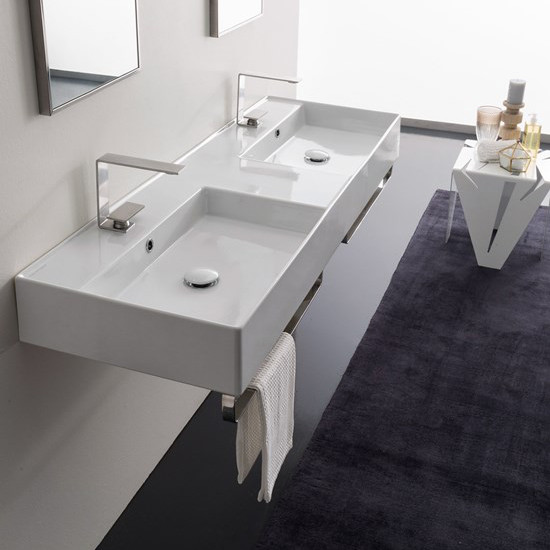 The Teorema 2.0 washbasin with double basin is an innovative sanitary with essential lines able to satisfy the most diverse needs; ideal for creating a functional and elegant bathroom, this sink is compatible with various furnishing solutions. Lay-on or wall mounted, Teorema 2.0 is a washbasin that ensures maximum design flexibility; always able to give a touch of refined elegance to the final design of the bathroom, it is no coincidence that this sanitary fixture with great expressive strength and important resistance furnishes the space dedicated to the daily toilet with style.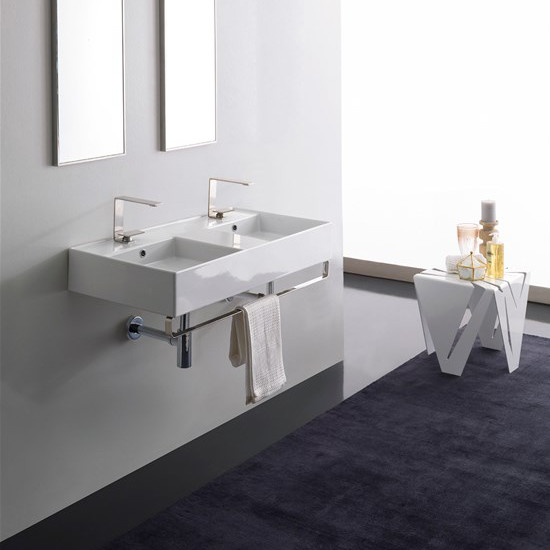 The Teorema sink is a versatile and comfortable piece of furniture, flexible and functional, capable of creating an environment characterized by comfort and relaxation; the bathroom furnished with the Teorema 2.0 washbasin is a space to be exhibited able to welcome guests and hosts with warm enveloping atmospheres. A synthesis of beauty and practicality, it makes the bathroom a well-kept and very pleasant place, a successful environment, which turns into the central space of the house.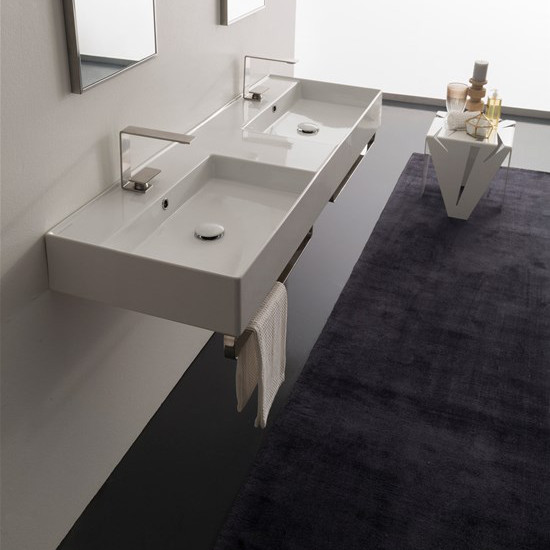 With its pure and essential shape and its minimum thicknesses, this suspended or countertop washbasin can change the face of any bathroom, giving it that special appeal that creates an atmosphere and that is able to catch the eye, fascinating it with its delicate refined shape. ; this sink is in fact a rectangle that is either countertop or suspended does not make the difference, with its refined linearity it invests the bathroom with a minimalist aesthetic that invites relaxation.
DATA SHEETS WASHBASIN TEOREMA 2.0 DOUBLE TANK

The washbasin: Elegant, functional, available in many different models enters the bathroom as a real protagonist.
Scarabeo supports it from 1974.
The commitment and seriousness demonstrated, together with the high quality of its products, allow the company to establish itself in a short time on domestic and foreign markets and to tighten profitable relationships with the most important world companies Manufacturers of sanitary ware.
Other strengths that have always characterized this company are the continuous search for novelty and the ability to constantly evolve according to the different needs manifested by the market.
From this continuous evolution comes the idea of presenting for a few years, new lines of furnishing sinks that, at present, are going to compose a very wide and always growing range.
The philosophy of Scarabeo is to make the washbasin protagonist of the bathroom, committing itself to the utmost in the study of new lines and models, designed to satisfy an increasingly demanding market, and to focus on the quality and uniqueness of the products rather than on the large Amount.