Wc Teorema 2.0 Monobloc Scarabeo

Designing a bathroom is an activity that requires attention and care in the choice of bathroom fixtures and furnishings that must enhance the spaces and give harmony to the entire room.
Goals that can be achieved with the sanitary fixtures from the Teorema 2.0 collection, designed by Giovanni Calisti for Scarabeo Ceramiche. Clean and essential lines characterize the entire line, which lends itself to combining aesthetics and functionality and giving class to any living environment. The monobloc ground-mounted toilet is part of Teorema 2.0 and has a geometrically simple and elegant structure, designed not to take up too much space and to be easily placed in small and large rooms. A sanitary that comes from experience and the ability to shape ceramic in an unprecedented way and transform it into artifacts of high aesthetic and structural value. The Scarabeo Ceramiche toilet, made with selected raw materials, worked with avant-garde techniques, is a made in Italy product, guaranteed to last over time and never go out of fashion.
Back to wall monobloc WC Teorema 2.0 for comfortable and welcoming bathrooms
The monobloc sanitary fixture equipped with an enamelled porcelain drain, has an architecture designed to allow water and dirt to flow easily, facilitate sanitation operations and always remain tidy. The solid and resistant structure makes it welcoming and capable of supporting people of important weight. Complete with toilet seat, it represents a comfortable seat in the bathroom where you can relax and carry out the various personal hygiene operations. Functional and versatile, it is a sanitary fixture that combined with the bidet and other furnishings from the Teorema 2.0 collection allows you to create environments of great visual impact and in step with the times.
Modern and practical sanitary ware
Modern, practical and elegant, the Teorema 2.0 monobloc toilet can be installed in newly designed bathrooms or replace an existing sanitary requiring few interventions. Ideal to be used as a contrasting element in environments with dark-toned floors and walls, it allows you to give harmony and freshness to those in which light colors are preferred or with wooden and stone furnishings.
TECHNICAL SHEET: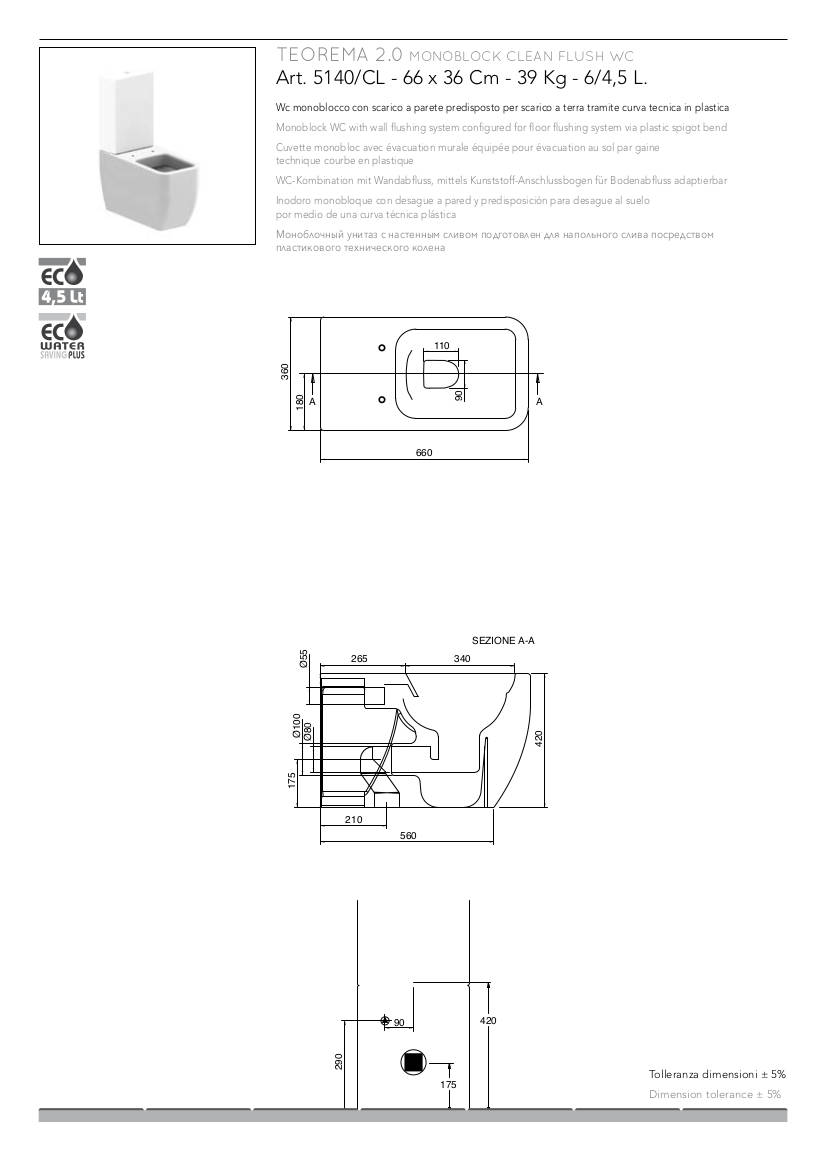 The washbasin: Elegant, functional, available in many different models enters the bathroom as a real protagonist.
Scarabeo supports it from 1974.
The commitment and seriousness demonstrated, together with the high quality of its products, allow the company to establish itself in a short time on domestic and foreign markets and to tighten profitable relationships with the most important world companies Manufacturers of sanitary ware.
Other strengths that have always characterized this company are the continuous search for novelty and the ability to constantly evolve according to the different needs manifested by the market.
From this continuous evolution comes the idea of presenting for a few years, new lines of furnishing sinks that, at present, are going to compose a very wide and always growing range.
The philosophy of Scarabeo is to make the washbasin protagonist of the bathroom, committing itself to the utmost in the study of new lines and models, designed to satisfy an increasingly demanding market, and to focus on the quality and uniqueness of the products rather than on the large Amount.